Telecommunications company Airtel Africa has said it will invest US$100 million into its Rwandan operations over the next three years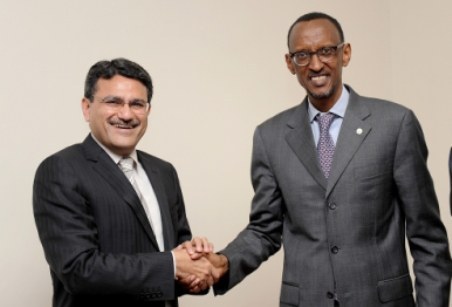 Bharti Airtel chief executive officer Manoj Kohli (left) with Rwandan President Paul Kagame. (Image source: Airtel Africa)
The announcement followed a meeting between Manoj Kohli, chief executive officer and joint managing director of Airtel Africa's parent company Bharti Airtel, and Rwandan President Paul Kagame.
Airtel said it would make a commitment to work with the Rwandan government to support its push to build a knowledge-based economy and will use some of the promised funds to generate both direct and indirect employment opportunities within the country.
"Our strategy for Rwanda is in harmony with the government's vision to make telecommunications a priority," said Kohli.
"We plan to work closely with the government to provide access to affordable telecoms products and services across the country."
Over the course of the next three years Airtel will invest in its operations and will work on bringing partners such as Ericsson and IBM into the country.
According to the National Statistics Institute of Rwanda, the country is home to one of Africa's fastest growing telecom markets with a mobile penetration of 38.4 per cent, as of July 2011.
In 2011, Airtel was awarded a license by the Rwanda Utilities Regulatory Agency to operate 2G and 3G GSM mobile services in the country, and the company has said it will launch 3G services in Kigali within Q3 2012.
It will also help develop a wireless broadband infrastructure across the country and introduce its mobile commerce platform Airtel Money.
Kohli said the company's vision for Rwanda stretched beyond business priorities pointing to the company's adoption of a primary school in Kicukiro in March, which it plans to refurbish, as well as its plan to introduce football talent search Airtel Rising Stars to the country.