Huawei South Africa and the Department of Communications and Digital Technologies (DCDT) will launch free online and on-site training in 5G and 4IR technologies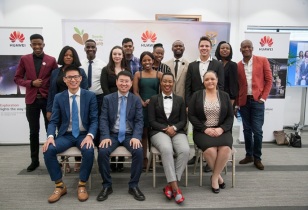 The Seeds for the Future programme aims to develop local ICT talent through knowledge transfer and hands-on experience. (Image source: Huawei South Africa)
The training is targeted at 6,000 postgraduate ICT students and practitioners.
Huawei announced this at the joint DCDT annual Seeds for the Future send-off ceremony, which will see ten university students from different institutions across South Africa on a study trip to in China.
DCDT Minister Stella Ndabeni-Abrahams said, "Through multilateral engagements such as in BRICS, South Africa has resolved to cooperate at various levels including capacity building, skills development and research. The Seeds of the Future programme, which focuses on critical 4IR-related skills, is, therefore, an important opportunity to expose ICT students to Huawei's world-class research and training facilities in China."
The minister added, "The department has adopted the theme, "coordinate, collaborate. Execute 4IR" noting that at the heart of the 4IR conversation, is a people-centred response that speaks to jobs, skills and broad economic participation."
"Accordingly, we have developed initiatives such as the "Building a capable 4IR Army" programme to ensure that our communities, especially the youth, are equipped to take advantage of new digital technologies, unlock future jobs and drive competitiveness," the minister stated.
The Seeds for the Future programme aims to bridge the gap between theory and practice and to develop local ICT talent through knowledge transfer and hands-on experience.
Huawei CEO Spawn Fan added, "We are now partnering with the Department of Communications and Digital Technologies – to deliver a 5G and 4IR online training platform with an accredited certification for five-thousand ICT students and professionals in South Africa. We aim to train a further 1000 students in our on-site programme."
Fan concluded that it was the duty of all ICT players including government, academia and the private sector to ensure that all South Africans benefited from the opportunities that connectivity brings.