Barry Mansfield and Ronald Bach, business unit director at Cape Town's Prezence Digital, discuss mobile marketing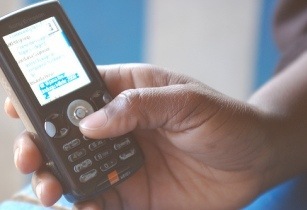 More than 31 per cent of South Africans under the age of 40 access the internet via their mobile phones only, according to Google's Consumer Barometer. (Image source: whiteafrican)
According to recent research by MEF, nearly 90 per cent of mobile users already engage in this type of mobile activity. It's the job of the 40-strong team at Woodstock-based Prezence Digital to tap into this demand.
With low income mobile subscribers in emerging markets enjoying access to increasingly sophisticated and affordable services, that growth doesn't look like slowing down.
The biggest rises in mobile content and mobile commerce are in growth markets, including Qatar (73 per cent in 2011 to 86 per cent in 2012), India (85 to 90 per cent) and South Africa (89 to 95 per cent).
The direct marketing community has for some time acknowledged the significance of mobile as a channel in the mix, with automated direct dialling and SMS 'push' still the dominant channels, even if MMS is beginning to emerge as an important service delivery and notification channel.
Official numbers coming directly from Admob, BuzzCity, InMobi, indicate that there are now more than one billion SA ad impressions per month available from the WAP-based ad networks alone.
Prezence's head of mobile, Ronald Bach, said mobile marketing will be more lucrative than ever in 2013. According to Google's Consumer Barometer, more than 31 per cent of South Africans under the age of 40 access the internet via their mobile phones only, the highest of any other country surveyed internationally.
While the majority of email marketing users in South Africa are between the ages of 31 and 54 years old, mobile options allow engagement with a much younger demographic.
There are now dozens of quality apps on the market. Bach himself is a fan of native iOS apps, but also uses Whatsapp, Gmail, Waze, Google Maps, Foursquare, YouVersion and News24 on a daily basis. His other favourites include RunKeeper, Fleetly, 8tracks, and the Angry Birds games.
According to local internet analysts World Wide Worx, of the approximately nine and a half million smartphones owned in RSA, just four per cent are iPhones, so it's not a wise move to design only for top end users. The way most South Africans use their handset, and the extent of the phone's capabilities, looks very different to the picture in Western Europe or North America.
It's not only Apple's iPhone that has a relatively weak presence in the market – the smartphone category as a whole constitutes only around 20 per cent of mobile phones in South Africa.
"Mobile products developed by brands in Africa need to take this into cognisance," added Bach. "With the lack of relevant local data, many brands look to data originating from developed markets when developing their mobile strategies.
"This data can be useful, but only if you look at it upside down. Flip those South African stats on smartphone choices on their head, and you pretty much have the picture of what's going on in developed markets."