Vodacom customers in South Africa are now able to enjoy eSIM support for all smartphone plans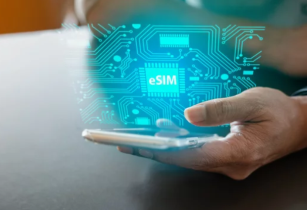 SIM cards contain unique identifying information that enables a mobile phone or device to connect securely to a mobile network. (Image source: Adobe Stock)
This means that customers who have eSIM-enabled smartphones can now easily connect to the Vodacom network and take advantage of the benefits, capabilities, and flexibility that eSIM technology provides.
Having multiple eSIMs on a single device for personal and business use is also now possible.
Rishaad Tayob, consumer business director at Vodacom South Africa, said, "As technology advances, so too do the needs of our users. Our drive to adapt and launch solutions that address our customers' changing needs is driven by market trends and insights informed by consumer requests.
"The introduction of eSIM support for smartphones could not have come at a better time, as research shows that the number of eSIM-enabled smartphones in the market is growing rapidly.
"We are always looking for new ways to extend our capabilities and simplify connectivity for our customers in today's digital world. Launching our eSIM support for smartphones is a great example of how we strive to simplify connectivity for our customers."
What is an eSIM?
An eSIM is a small chip embedded in your phone instead of a removable plastic SIM card. Unlike a traditional SIM card, you cannot remove and use it in a different phone.
SIM cards contain unique identifying information that enables a mobile phone or device to connect securely to a mobile network.
However, the eSIM technology stores mobile information in a few lines of code on a dedicated chip inside a device rather than on a removable card. This eliminates the need for manufacturing and shipping plastic, which also reduces carbon emissions.
Davide Tacchino, managing executive of terminals at Vodacom South Africa, said, "The eSIM solution is key to drive Vodacom's Green Planet Strategy as it allows us to continue to connect additional customers to the network, without having to distribute traditional cards, which means no more worries about plastic and paper waste resulting from packaging. This will help boost our Green Plan achievements and further our vision of constantly making a positive difference in the future of our planet while reducing carbon emissions".
"We also understand that to mitigate risk, we need to ensure connectivity with the lowest possible GHG emissions and provide goods manufactured, supplied, distributed and discarded with the lowest possible carbon footprint. By introducing eSIM support for smartphones, we hope to make a meaningful contribution and reduce the environmental impact."