GE has signed an agreement with Azito Energie SA to upgrade two gas turbines at the company's combined-cycle power plant in Ivory Coast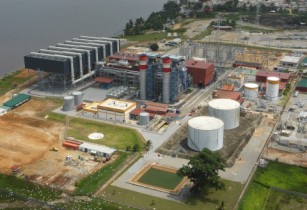 GE's hardware and digital upgrades help increase efficiency and output at Azito Power Plant in Ivory Coast. (Image source: GE)
The agreement focuses on improving performance and providing insights into plant and turbine operations.
Under the partnership programme, GE's hardware upgrade and operations optimisation digital solutions will help to increase power output by up to 30MW. GE will also deploy its technical insights to Azito to increase efficiency and improve operations at the power plant.
The project, locating in the Yopougon district of Ivory Coast, has marked GE's first GT13E2 MXL2 gas turbine upgrade order in Sub-Saharan Africa.
"At the center of this agreement with GE is our commitment to provide the people of Ivory Coast with access to more reliable electricity," said Luc Aye, managing director of Azito Energie.
"As the electricity sector has undergone significant reform in Ivory Coast, new regulations have helped foster a more welcoming environment to help Ivorians gain access to electricity," added Aye.
In addition to increasing power output by up to 30MW, upgrades on the turbines are expected to deliver a combined-cycle efficiency increase, resulting in fuel savings and reduced CO2 emissions, said GE to the press.
According to GE, its solutions will also extend inspection intervals for the gas turbines, with an aim to reduce overall plant costs and result in improving profitability.
"With the Azito power plant producing more than a third of the electricity in Ivory Coast, these improvements will have a wide-reaching impact on the country's energy landscape" said Elisee Sezan, general manager of GE's Power Services business for Sub-Saharan Africa.
"Until two decades ago, the country was heavily reliant upon hydroelectric power and fell into an energy crisis when the electricity output from its dams was drastically reduced due to droughts. With this project, we look forward to supporting Azito Energie in its efforts to help Ivory Coast achieve its strategic energy objectives to increase existing plants' efficiency and double the installed capacity it had in early 2013 by 2020," Sezan emphasised.