What if you could check server room inventory in seconds, and home in with sounds and visuals on that specific server that requires an intervention?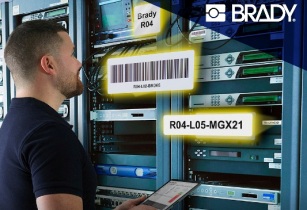 Brady's RFID labels can also secure data and enhance equipment safety. (Image source: Brady Corporation)
Brady's RFID labels and readers can make that happen. Brady offers both on- and off-metal RFID & NFC technology, embedded in our reliable labels, to quickly locate spare and active hardware, to access relevant maintenance histories and intervention guidance, and to easily log any intervention in centralised systems
Integrated security and detection
Brady's RFID labels can also secure data and enhance equipment safety. The technology cancels the need to print labels with potentially sensitive server identification data. Instead, those data can be secured on RFID chips that enable encryption and user specific access layers. In addition, notifications can be set up whenever a labelled server leaves or enters a specific server room. And with integrated sensors, RFID labels can even be used to detect coolant leaks and server overheating.
Discover datacom identification solutions from Brady >>
Keep all assets identified
Brady labels stay attached and remain legible, even when exposed to server generated heat. They are tested using internationally accepted ASTM-methods and can be equipped with RAIN RFID technology and ETSI-compliant bandwidth, NFC technology, and dual frequency (RFID & NFC), all with on- or off-metal read range. Because of their reliability, Brady labels are used in large, edge, and small data centres worldwide.
How did other companies benefit? Check out inspirative case studies >>
Data centre identification guide book
Digitisation accelerates across many industries, and data centre capacity is keeping pace. Increasing needs for security, speed and capacity result in expansion, modernisation, relocation, higher server and router port densities and variable panels. All of this will require flexible identification solutions that support highly efficient data centre professionals to deliver their best work fast.
The specialised guide offers a high-level overview of the identification solutions Brady offers to data centre customers.
Download the free guide now >>