Siemens will work more closely with the African countries Uganda and Sudan in the areas of power supply, industry, transportation and healthcare, as they sign a MoU on 4 May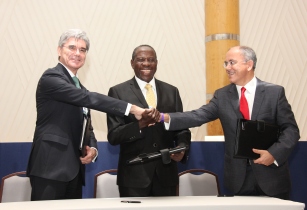 Signing of Uganda MOU: (L-R) Joe Kaeser, Siemens Global President and CEO; Hon. Minister of Finance Matia Kasaija, Uganda; Mesut Sahin, CEO MMEC Mannesman, Germany. (Image source: Siemens)
The African states signed the corresponding Memoranda of Understanding (MoU) at the World Economic Forum 2017 in the South African city of Durban. The documents were signed in the presence of Brigitte Zypries, German Federal Minister for Economics and Energy, Joe Kaeser, President and Chief Executive Officer of Siemens AG and further high-ranking personalities.
"Africa's economies are gaining ground and can develop their full potential with the right partner. Siemens wants to support their sustainable development – with solutions and projects in Africa, for Africa. The agreements with our African partners are important steps along this path," said Joe Kaeser, President, and CEO of Siemens AG. "Our goal is to double our order intake in Africa to more than EUR€3bn by the year 2020."
Brigitte Zypries, German Federal Minister for Economics and Energy, said: "Africa is a continent with economic opportunities and the German industry is an outstanding partner for the countries of Africa to realize these opportunities. I am very pleased that with the agreements signed today, good progress is being made towards the goal of better infrastructure and thus more growth and employment. I particularly welcome the training program because well-trained skilled workers are a key pillar of prosperity and development. And it is precisely these elements that I also support with the 'Pro! Africa' plan."
"Siemens is a company that invests for the long term, and we are interested in the long-term fundamentals of these markets and the diversification of their economies," said Sabine Dall'Omo, CEO of Siemens Southern and Eastern Africa. "The opportunity for industrialization in Africa is now. It is estimated that Africa imports one-third of the food, beverages and other similar processed goods it consumers. The potential exists for Africa-based companies to meet this domestic demand and in so doing create sustainable revenue streams and opportunities for job creation."
Under these agreements, Siemens and its partners will develop solutions in the areas of power supply, transportation, industry and healthcare. Another key point in the agreements relates to continuing training programs for various technical fields in order to create a pool of well-trained local workers. Furthermore, Siemens is joining the "Make IT Alliance" of the German Federal Ministry of Economic Cooperation and Development to promote start-ups and technology companies across the African continent. The agreement was signed in the presence of Guenter Nooke, German Chancellor's Personal Representative for Africa in the ministry.
Africa possesses vast economic potential with forecasted growth rates of up to five percent. Spending on African infrastructure has more than doubled to US$80bn over the last 15 years, and the aspiring urban centers offer growth opportunities for the entire continent. More than a billion people worldwide have no access to electric power, and half of those people live in Africa. In Uganda and Sudan, Siemens' primary goal is to increase national power generating capacities and to connect the local population to the power grids. A reliable and extensive power supply system is the fundamental prerequisite for economic growth.