Onair Medya, a Turkish company specialising in FM and TV broadcasting equipment, has launched an energy saving transmitter model, the Onair FT4K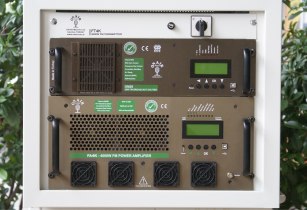 The FT4K offers completely digital modulation and does not need periodic adjustment. (Image Source: Onair)
FT4K is Onair's latest product designed with LDMOS transistors and DDS modulator. The transmitter consists of a 25W exciter equipped with RDS encoder, a 4KW power amplifier and a rack mounting cabinet.
According to the company, the FT4K owes its efficiency to the 4pcs BLF178XR LDMOS transistors used inside. LDMOS transistors present good resistance against antenna reflections and its high efficiency reduces the heating of the amplifier, the company said. The transmitter also consists of a DDS type digital modulator in the exciter. It has remote control with ethernet or GSM modem and can save 100 event logs monitored on LCD or remotely via Internet. It comes with SMS and email warning in case of breakdown. FT4K has a GPIO switch, automatic start of the air conditioner when the room temperature or humidity reaches the prescribed limit in order to save energy.
The modulation being completely digital, the transmitter does not need periodic adjustment as is the case with the analogue transmitters.