Africa Mobile Networks (AMN) has collaboratively joined hands with Starlink, the satellite constellation initiative by SpaceX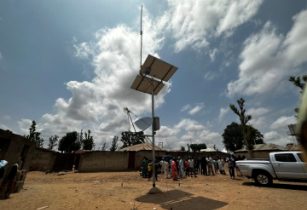 AMN's own Radio Access Network (RAN) technology enables 2G (GSM) plus 3G (HSPA+) or 4G (LTE) services to be delivered from a single radio node installed on its low-cost base stations. (Image source: AMN)
Through this partnership, AMN aims to employ Starlink's low Earth orbit satellites to establish robust, high-speed, and low-latency broadband connections for its mobile network base stations. This pioneering move will significantly enhance connectivity, especially in remote and underserved regions across the globe, amplifying access to advanced mobile services and bridging the digital divide.
AMN is committed to its vision of a fully connected world, where no community of any significant size is without telecommunication services for the social, educational and economic benefit of the population. AMN has made significant strides towards this vision, with telecommunication services now accessible by over 10 mn people in nearly 4,000 communities across 14 countries in sub-Saharan Africa as a direct result of AMN towers. AMN's own Radio Access Network (RAN) technology enables 2G (GSM) plus 3G (HSPA+) or 4G (LTE) services to be delivered from a single radio node installed on its low-cost base stations.
The announcement brings this vision closer than ever and enables AMN to offer 3G and 4G services to rural communities with high quality of service and delivery of ever-increasing amounts of bandwidth and data volumes demanded by subscribers whilst remaining economically sustainable.
"The low-latency and high-speed backhaul from Starlink combined with AMN's flexible ARN allows us to deliver 3G and 4G – and later 5G – services to remote communities anywhere in the world. We are already moving quickly in Nigeria – where we have more than 1,000 base stations in service today – to connect more unconnected communities, and we see huge appetite for data services in many of these locations. By working with Starlink, we can support significant growth both in terms of site count and the services we are offering" – Mike Darcy, CEO at AMN Group.
AMN's ARN is a flexible multi-carrier and multi-technology (2G/3G/4G) radio node which can operate with up to five simultaneous carriers in either 2G+3G or 2G+4G configuration. It can support up to 5,000 subscribers per node, or up to 15,000 subscribers on AMN's 20m towers with three sectors. AMN manufactures ARN in the UK and has recently expanded its production line to manufacture approximately four thousand units each year.