David Kirk reports from April's National Association of Broadcasters Convention in Las Vegas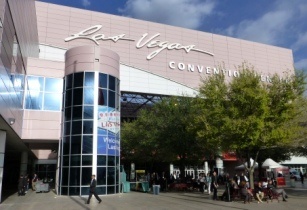 Las Vegas Convention Center - home of National Association of Broadcasters exhibition and conference.
Page 1 of 3
If the practice of town-twinning were extended to trade fairs, the National Association of Broadcasters' annual exhibition could usefully be paired with the Consumer Electronics Show (CES).
Held in Las Vegas each January, CES was this year dominated by a push for larger and higher-resolution television screens, orchestrated by companies such as Hitachi, JVC, LG, Panasonic, Samsung, Sharp, Sony and Toshiba. Their motive was to revive sales in a market where demand for 1920x1080 pixel screens has reached saturation.
Where the consumer electronics market leads, content producers and broadcasters invariably follow. The most in-your-face exhibits at the NAB show were 3840 x 2160 'ultra-high-definition' screens in a range of sizes. By far the best of these was a prototype on the Sony stand, as crisp and clean as a 9.7 inch 'retina quality' Apple iPad, but at 30-inch size.
The auxiliary theme evident on many of NAB exhibition booths was the increasing integration of IP technology into broadcast infrastructure, from production right through to playout.
IP versus traditional audio/video routing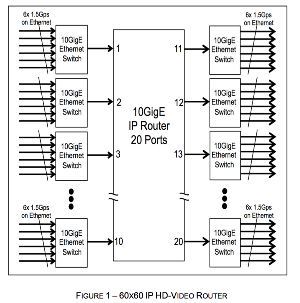 Harris Broadcast's Stan Moote and Paul Greene delivered a paper exploring the merits of IP routing (Figure 1) compared with integrated baseband routing.
"IP routing is a term that refers to a set of protocols that define data connections across many networks to route data from a source to a destination," the paper stated. "These protocols build routing tables in order to know how to forward data. As broadcasters, we like to think of IP routing as a bunch of Ethernet-connected switches that open a path between devices. We are more interested in the bandwidth and connection ports available than in the protocols.
"Video routers and IP routers are in no way similar. To add more to the difference, IP routing is packet based. Packets can be delivered via different paths and received in seemingly random order. Dropped packets often occur, resulting in retries that can be easily accomplished since IP routing is bidirectional. Bottom line is that the real-time nature of video routing is lost when switched over IP.
"All this may seem negative and make one feel IP routing is 100 per cent undesirable within a broadcast plant. By taking advantage of higher Ethernet bandwidths, carefully configuring and provisioning the IP routing and switching components, IP routing can and will happen for sure in the future.
"The key is to have a common router control structure that makes the operation seamless to the operator. An operator needs to select the source and destination regardless of which format or transport structure the signals are currently in. This requires a control structure that takes into account conversion and intelligent tie-line management to perform the grunt work of ensuring a seamless flow of signals throughout the plant," noted the report.
"The initial implementation of this topology will be conversion devices external to the router responding to a central control system. As more and more processes get migrated into the router itself, the conversion devices will be integrated into the router's I/O. This paves the way for even more functionalities within the router using a third signal path for metadata, watermarking and other signal tracking functions."
Continues on page 2...