Wi-flix has expanded its presence to Zambia by collaborating with telecommunications company MTN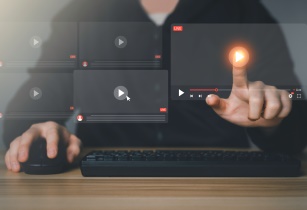 Wi-flix and MTN form partnership in Zambia. (Image source: Adobe Stock)
Through this partnership, Wi-flix will offer MTN subscribers in Zambia access to premium content. Apart from this, the partnership will provide consumers daily, weekly, and monthly data packages of different price points, making the service accessible to all customer segments.
The company already saw success in Kenya, Ghana, and Nigeria. It is now aiming to reach consumers in Zambia by providing more than 30,000 hours of entertainment to Zambian audiences.
Louis Manu, co-founder and chief commercial officer of Wi-flix, speaking to the launch of the streaming service in the South-Central African country said the move forms part of the company's ambition to become the leading content provider for the African continent and the diaspora.
"We witness another exciting milestone as we launch in Zambia and bring to the public the most exciting premium content on demand and at the most affordable rate which is exactly what many Zambians are looking for. This comes at a time when we recently announced the integration of Dolby Atmos and updated our catalog with Dolby Atmos and Dolby Audio-enabled titles such as The Signal, Bilal, Freedom Force, and Created Equal for our customers to feel the spatial sound experience that Dolby offers. Customers can now enjoy the best African and foreign movie titles, TV shows, sports, and a variety of the very best of entertainment anytime, anywhere and on whatever devices."
"Additionally, we are even more excited with the partnership agreement with telecoms giant, MTN Zambia. This provides us the opportunity to leverage on their recently deployed 5G high-speed internet connectivity to ensure the experience of subscribers is more seamless and exciting."
Richard Acheampong, chief consumer officer of MTN Zambia, said, "I am delighted to see the successful partnership between Wi-flix and MTN Zambia, providing our customers access to a variety of premium content. We are taking a step towards achieving our Ambition 2025 of leading digital solutions for Africa's progress, harnessing the power of our leading brand, its footprint, connectivity infrastructure and technology platforms. With Dolby Atmos and updated catalogs, coupled with our 5G high-speed internet connectivity, customers now have access to an unbeatable entertainment experience."
Commenting on the launch, Bright Yeboah, co-founder and chief operations officer on his part said, "Our presence in Zambia is instrumental in our mission to democratise content and ensure affordable premium entertainment is accessible to everyone on the continent and those in the diaspora. This also presents an opportunity for film producers, directors and aggregators in Zambia and elsewhere with quality content to monetise their works on our streaming platform."
"We are excited to expand our footprint which has seen tremendous growth in such a short amount of time with the addition of more content to our catalog for our audiences and meet the growing demand for premium content, establishing Wi-flix as the home of the best of entertainment anywhere, at any time and on any device."