Amini Corp., an early-stage company focused on solving Africa's environmental data gap through artificial intelligence and satellite technology, has raised US$2mn in pre-seed funding in an oversubscribed round led by Pale Blue Dot, a European climate tech fund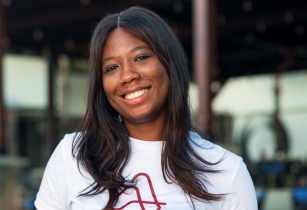 Kate Kallot, CEO and founder of Amini. (Image source: Amini)
Africa, which is home to 65% of the world's uncultivated fertile land, and 30% of its mineral resources, accounts for only 3% of the global GDP. One reason for this disparity is lack of reliable and trustworthy data which has held back Africa's development for decades by hampering business decisions and capital allocation as well as making it difficult to measure the impact of climate change.
Within the first six months of operation, the company has developed a robust data aggregation and analytics platform capable of collecting, unifying, and processing satellite data, weather data, and other types of data down to a square metre. The platform provides access to valuable environmental data analytics, including drought, flood, soil and crop health. This data can be processed to forecast crop yields for millions of smallholder farmers in mere seconds, as well as measuring the impact of natural disasters across the region.
Amini was designed to address Africa's data scarcity, facilitate capital investment, promote climate resilience, and accelerate economic development opportunities in the region.
Amini has found its first customers in the agricultural insurance sector, using the platform's granular, verifiable, and actionable data for enhancing farmers' resilience through parametric agricultural insurance coverage. With a focus on regenerative agriculture, this collaboration aims to support both African farmers and global food chains.
Heidi Lindvall, general partner at Pale Blue Dot, said, "The scarcity of high-quality environmental data of Africa is a concern as it prevents others from building important climate solutions such as for example improving farmer insurance, monitoring climate risk or supply chains. When meeting the team behind Amini we were blown away by their ambition and expertise and we believe they are best positioned to fill the environmental data gap of Africa."
The team possesses a strong track record of using deep technologies to tackle challenges specific to Africa, showcasing a unique blend of talent and expertise. Kate Kallot, the founder and CEO of Amini, boasts over a decade of leadership experience in driving global innovation in artificial intelligence and machine learning at technology companies such as Intel, Arm, and NVIDIA.
Kallot has spearheaded initiatives focused on leveraging artificial intelligence and social impact to benefit the African continent, such as the United AI Alliance, which aims to bridge the AI compute gap and enhance data capabilities in emerging markets. Joining Kallot on the executive team are Mwenda Mugendi, Muthoni Karubiu, and Eshani Kaushal. Together, they bring a wealth of experience in machine learning, data science, geospatial analysis, and fintech, gained from leading organisations such as Microsoft, NASA and MTN. The Amini team is deeply committed to making a positive impact, in Africa and beyond.
Kate Kallot, CEO and founder of Amini, said, "We are building the single source of truth for environmental data across Africa. Data has the potential of transforming livelihoods by enabling everything from climate resilience to sustainable value chains. Should Amini reach its full potential and solve this problem, we are setting up Africa for tremendous transformation and development over the next decade. It's a long way to get there but the early customer success and interest from global enterprises, governments and international organisations is showing us that we're on the right track. "