Calrec, leading designer and supplier of broadcast audio mixing consoles and equipment, has announced a new partnership with South Africa-based AV Worx, a distributor of professional audiovisual technology and solutions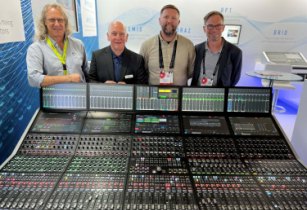 The partnership reflects Calrec's commitment to the South African market and gives broadcasters in the region access to the latest audio technologies. (Image source: Calrec)
AV Worx is selling and supporting Calrec's entire range of audio products including mixing consoles, remote production, audio networking solutions, and IP infrastructure technology across South Africa.
The partnership reflects Calrec's commitment to the South African market and gives broadcasters in the region access to the latest audio technologies, ensuring they benefit from the most current audio innovations. Calrec offers both its proprietary network solution Hydra2 and IP connectivity with ImPulse and ImPulse1. This allows the company to satisfy the needs of broadcasters, whether they have made the decision to move to IP or not, across its complete range of consoles.
Mark Malherbe, director of AV Worx, commented, "We are excited to partner with Calrec, who is really pushing the boundaries with broadcast audio. The company's products are used by some of the most successful broadcasters in the world. This partnership will enable us to offer broadcasters in South Africa the best possible audio solutions, especially as we make inroads with IP here in the region."
Dwaine Schreuder, broadcast solutions engineer at AV Worx, added, "Partnering with Calrec means we can provide broadcasters with a modern, sophisticated IP audio setup, including remote mixing, that offers sophisticated technologies like its Type R and new Argo console. It's impressive the level at which Calrec is operating when it comes to IP."
Graham Murray, international sales manager at Calrec, commented, "Expanding our presence in South Africa is the next step in our journey in the region. Teaming up with AV Worx makes perfect sense – they're a trusted team, known for their technical knowledge and outstanding customer support. This partnership means that broadcasters in South Africa can now tap into the potential of IP technology, which promises improved efficiency, flexibility, and better audio quality, and that's pretty exciting for everyone involved."