This year, AfricaCom promises a plethora of innovative approaches to inclusion and optimisation, creating opportunities for revenue maximisation where it counts in the communications industry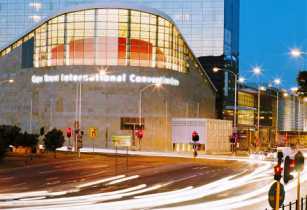 AfricaCom will be held at Cape Town International Convention Centre in South Africa. (Image source: CTICC)
What do you get when you come to the continent's biggest communications event? Whether you are an operator, a broadcaster, a service provider, an ICT enterprise, an application developer, or a regulator, the answer is the same: you will get a roadmap to digital inclusion.
What does inclusion mean? That is where the market is differentiated at this event - and that is where you can tailor your experience in Cape Town this November. Entrepreneurs can discover the benefits of incubators, entertainment firms can experience the latest generation of digital music in Africa, operators and investors can take a look at forward movement towards the implementation and operation of LTE in the continent or of mobile money ecosystems, of new modes for broadcasting, or of the emergence of apps as a serious route to profitability.
Those geared more towards infrastructure and provision of services might consider delving into knowledge resources on Cloud technology, on utilisation of Big Data, or on solutions geared towards enterprise mobility. AfricaCom is Africa's largest annual communications congress and exhibition, and there are many ways to profit from participation in the event, which this year is held from 12-14 November.
The conference programme covers the most strategic issues affecting companies in Africa's digital market - including services, efficiency, profitability, customer experience, partnerships, and policy – and includes seven co-located events: Digital Music Africa, Mobile Money Africa, LTE Africa, AfricaCast, AfricApps, Cloud and Big Data. Plus two FREE workshops with Corning and WiMAX Forum. There will be the opportunity to hear from 300+ industry speakers from the entire digital ecosystem, including key players such as: Deezer, MTN, Etisalat, Mozilla, Wananchi, Orange, Airtel Africa, Vodacom, Google, SABC, Smile, Iroko, and Facebook.
The exhibition features more than 350 exhibitors, offering outstanding opportunities to network with a record 8,000+ decision-makers, representing the entire communications ecosystem across the continent, and beyond it.
As Irene Charnley, CEO of Smile Communications, put it to the Informa TM, organiser of AfricaCom, "The next 12 months are likely to see continued growth in ICT access across the continent, combined with ever-increasing demand for high-speed, high
quality and reliable broadband services as markets and services continue to mature.
"Increased competition and innovation amongst high-quality service providers and content and application providers will place additional pressure on legacy systems. This and other factors will add to the pressure on large legacy networks as consumer loyalty
continues to decline and as the demand for high-quality and reliable services to support these new applications becomes increasingly difficult to ignore."
Infrastructure remains to be built – including the deployment of solutions to improve network quality and reliability. Work highlighted in Cape Town, hence, will include a variety of vendors and their partners, such as governmental organisations and regulatory agencies.
WiMAX is central among the key technological standards promoted at this year's event. The WiMAX Forum is promoting its involvement in industrial markets and building a case for its WiMAX Advanced initiative.
Enterprise connectivity is key to such development, as many members of the WiMAX Forum are moving away from the traditional service provider operations, to utilise technology to gain direct share of industrial markets.
The WiMAX Forum offers opportunities to learn more at WiMAX Africa 2013, which is co-located with AfricaCom. This third annual event is designed to focus on supporting the African operator community, and on developing and managing profitable corporate growth through WiMAX network deployments.
Technologists at AfricaCom
Enterprises promoting key technologies at AfricaCom include many notable providers of solutions and services to African ICT sectors.
Global ICT solutions provider Huawei, which is dedicated to customer-centric innovation and strong partnerships, has established end-to-end capabilities and strengths across the carrier networks, enterprise, consumer, and cloud computing fields. The company is committed to creating maximum value for telecom carriers, enterprises and consumers by providing competitive ICT solutions and services. Its products and solutions have been deployed in more than 140 countries, serving more than one third of the world's population.
Econet Solar is a manufacturer and distributor of solar-powered products for the global market, and in particular for the developing world. The company is driven by a vision to light up the developing world and provide safe alternate
power. Econet Solar aims to achieve this vision by providing a variety of practical and affordable products, uniquely tailored for developing markets. The company's patented innovation: the Home Power Station (HPS), a lighting and charging solution, makes expensive Solar Technology available to low-income individuals through the innovative combination of solar energy products and mobile-phone technology; and is emblematic of the ethos and innovation of Econet Solar to improve the lives of millions through technology.
Samsung Electronics offers specialisms in semiconductor, telecommunication, digital media and digital convergence technologies. The company operates two separate organisations to coordinate its nine independent business units: Digital Media & Communications, comprising Visual Display, Mobile Communications, Telecommunication Systems, Digital Appliances, IT Solutions, and Digital Imaging; and Device Solutions, consisting of Memory, System LSI and LCD.
O3b Networks is building a next-generation satellite network for telecommunications operators, Internet service providers, enterprise and Government customers in emerging markets. The O3b system will combine the global reach of satellite with the speed of a fibre-optic network providing billions of consumers and businesses in nearly 180 countries with low-cost, high-speed, low latency Internet and mobile connectivity.