The Metro Ethernet Forum (MEF) is focused on the services provided to end-user corporates by operators, particularly those services that are critical to 4G environments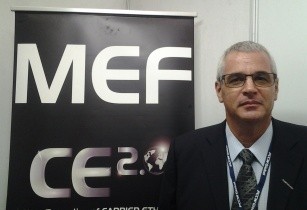 Shahar Steiff explained to Communications Africa/Afrique how MEF supports advanced connectivity and service provision.
At AfricaCom 2013, MEF presented its latest analysis of the emergence of such as services as provided through Ethernet-configure infrastructure. Ethernet offers the best example of corporate connectivity, in the sense that it has represented a high growth area for purchasing by operators. The drivers here are speed, lower costs, legacy replacement, support for increased Internet access, and provision of cloud-based services – all increasingly relevant factors to African communications economies.
Operator enablers as Ethernet exceeds legacy network performance
In Africa, there is still a need to convert SDH into Ethernet, but there is the prospect of simpler scenarios, as Ethernet increasingly transforms the wide area networking landscape. Much of this business is being driven in South Africa, but there is viable business in other countries, such as Zambia and the DR Congo. There are 220 member organisations within the MEF. Its African chapter includes iBurst, MetroFibre, Neotel and Vodacom.
The bandwidth demands grow radically with the deployment of 4G/LTE, as we have seen in the USA. Take it into Africa, and apply MEF specifications for Ethernet services into backhaul, and operators may see the value in enabled service attributes, through more advanced engineering of the back-end of network operations.
Adoption may be at an early stage, globally as well as in Africa, but operators may expect to see how MEF makes things more efficient and flexible through support for carrier Ethernet specification, acquisition and deployment.
Kevin Vachon, chief operating officer at the MEF, affirms that the main business is in configuration for effective service provision, and a key tool is the new generation of carrier Ethernet, and that this is where MEF can help drive market growth – applicable in South Africa, particularly, through support for e-access wholesale services.
Look to the MEF for CE 2.0 certification and companies are adopting Carrier Ethernet Certified Professional (CECP) training. Shahar Steiff, AVP - business operations at PCCW, reported recently, to Communications Africa/Afrique, that there are increasing numbers of enquiries for MEF training certification to clarify and support configuration of Ethernet deployment and operation.
The local case in South Africa
MEF co-chair of marketing in South Africa, Gary Williams, reported that the adoption of e-access services has, indeed, grown exponentially in South Africa. His company, MetroFibre, has built business over the past year by serving the new African members, and through training 28 CECPs.
It has also worked hard on cloud adoption and on software-defined networks (SDNs). MEF has already brought into play improved configuration – including 'one-touch' technology and 'build-your-own service' packages. Williams sees SDN coming into maturity through operator needs to combine billing activities with high-speed and multi-channel service delivery.
Small cells, for example, drive business by driving forward the need to address high-bandwidth, high-quality data services in short bursts and across unpredictable time frames. Extracting more traffic, more usage, through carrier Ethernet means really just one thing – more monetisation of network infrastructure, with sustainable impact on operational expenditures.