Orange has joined forces with Engie to convert the GOS, Orange's main data centre in Africa to Solar Power, with an aim to reduce the carbon footprint in Côte d'Ivoire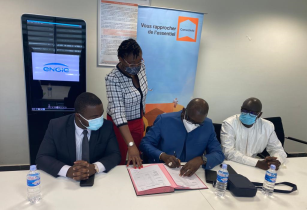 The GOS is one of the components of the Orange data centre network in Africa. (Image source: Engie)
The data centre was built in 2016 in Grand Bassam, Côte d'Ivoire, on a site covering 16,600 sq m. It hosts IT and telecommunication equipment, which support the services provided by the GOS to all OMEA subsidiaries.
The GOS is one of the components of the Orange data centre network in Africa, which has Uptime Institute Tier 3 certification design, consolidating Orange's position as a key player in the sub-region's economic ecosystem. It helps to advance digital equality by supporting states to develop agricultural, educational and healthcare services and fosters entrepreneurship and local innovation.
In December 2021, Orange signed an energy-as-a-service (EaaS) contract with Engie to convert the GOS to solar power by installing a solar plant on rooftops and solar carports, for a total installed capacity of 355 kWp, to reduce its environmental footprint, minimise the share of commercial electricity from non-renewable sources and avoid using fuel generators. The commissioning is scheduled for the H2 2022.
Alioune Ndiaye, chairman and CEO of Orange Middle East and Africa, said, "This project is a first in West Africa for Orange in terms of its size and scope and it perfectly illustrates our ambition to speed up our solar projects in order to achieve net zero carbon by 2040. In the rest of Africa and the Middle East we have already implemented several initiatives, as equipping 5,400 telecoms sites by solar panels and building solar farms in Jordan and Mali. We intend to go further."