The November 2022 edition of the Ericsson Mobility Report forecasts that in the Middle East and North Africa (MENA) region, 5G subscriptions are projected to grow steadily from 24 to 270 mn up to the end of 2028, accounting for 31% of total connections at that time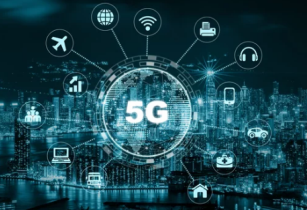 The statistic reinforces 5G as the fastest-scaling mobile connectivity generation. (Image source: Adobe Stock)
Data traffic growth will continue as more subscribers are transitioned to 4G, and 5G coverage expands in the period leading to 2028 with average data traffic per smartphone rising by 24% annually. Currently, 4G accounts 56% of mobile subscriptions in MENA with 4G subscriptions expected to rise from 430 million in 2022 to 550 million in 2028 resulting in over 60% of subscriptions in the region being 4G in 2028. The monthly data traffic per smartphone in MENA will increase by 24% from 11 GB per month in 2022 to 38 GB per month in 2028.
Eva Andrén, country manager of Ericsson Egypt at Ericsson Middle East and Africa, commented: "Ericsson has so much to offer during the coming stage, providing state-of-the-art technology and enabling huge progress via the deployment of 5G networks. As individual and corporate subscriptions to mobile networks rise, we foresee a breakthrough in telecommunications as a new generation of technologies opens the space for endless possibilities. This becomes apparent in the latest edition of the Ericsson Mobility Report."
Nora Wahby, vice-president and head of customer unit West Africa and Morocco at Ericsson Middle East and Africa, explained, "The latest edition of the Ericsson Mobility Report has given us statistical insight to what we are already witnessing in terms of the quick 5G deployment rate and the increasing demand for Fixed Wireless Access. The projected growth for the year 2028 is phenomenal, particularly for the Middle East and North Africa region."
Global 5G subscriptions remain on track to top one billion by the end of this year, and five billion by the end of 2028, despite current and developing economic challenges in many parts of the world. On 5G itself, about 110 million subscriptions were added globally between July-September 2022, bringing the total to about 870 mn. As forecast in previous reports, 5G is still expected to reach one billion subscriptions by the end of this year – two years faster than 4G did, following its launch. The statistic reinforces 5G as the fastest-scaling mobile connectivity generation.
By the end of 2028, five billion 5G subscriptions are forecast globally, accounting for 55% of all subscriptions. In that same timeframe, 5G population coverage is projected to reach 85% while 5G networks are expected to carry around 70% of mobile traffic and account for all contemporary traffic growth.
The report also forecasts global fixed wireless access (FWA) connections to grow faster than previously expected. FWA – the wireless alternative to wireline broadband connectivity for homes and businesses – is one of the major early 5G use cases, particularly in regions with unserved or underserved broadband markets. FWA is forecast to grow at 19 percent year-on-year through 2022-28, and top 300 million connections by the end of 2028.
Overall mobile subscriptions are expected to top 8.4 bn by the end of 2022, and 9.2 bn by the end of 2028. Most subscriptions are associated with smartphones. At the end of 2022, 6.6 bn smartphone subscriptions are estimated, accounting for about 79% of all mobile phone subscriptions