Siemon, a global leader in network infrastructure solutions, has announced the launch of its new LightVerse copper/fibre combo patch panel in Africa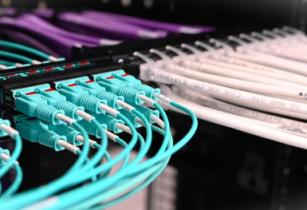 The LightVerse copper/fibre combo patch panels ensure swift, cost-effective, and efficient deployment of critical connectivity. (Image source: Siemon)
The new panel has been designed to provide seamless connectivity by managing critical fibre and copper connections within space-sensitive application environments in today's dynamic data centre and intelligent building/LAN environments.
As the latest addition to Siemon's LightVerse fibre optic cabling system, the new combo patch panel occupies only 1U of rack space. It is available in flat and angled configurations and seamlessly accommodates up to 96 fibres or 48 copper connections, or any desired combination of the two, offering organisations the versatility they need to tailor their connectivity solutions to their unique needs.
Supporting Siemon's existing industry-leading LightVerse singlemode and multimode fibre, as well as Z-MAX shielded Category 6A and unshielded Category 6A/6 copper connections, the LightVerse copper/fibre combo patch panels ensure swift, cost-effective, and efficient deployment of critical connectivity.
"With our LightVerse copper/fibre combo patch panels, users have unparalleled flexibility in deploying their fibre and copper connections," said Narender Vasandani, technical services group manager for IMEA at Siemon. "This adaptability allows businesses to tailor their connectivity solutions to meet specific requirements and optimise their rack space."
LightVerse copper/fibre combo patch panels include an innovative 6-port copper adapter plate, which supports effortless population of copper connections within the panel. It is available as a separate item to support field terminations, or as a pre-terminated trunk option to support rapid delivery of copper connections. This approach simplifies the deployment of new network infrastructure or the scaling of existing connections, allowing spaces to be blocked off with blanking plates and gradually populated as needed.
Recognising the importance of fast and efficient installations, Siemon offers a range of high-quality copper and fibre pre-terminated trunks. Factory-terminated connectors and pre-tested solutions enable these trunks to be installed up to 75% faster than traditional methods, empowering users to deploy critical connections with confidence and minimise downtime.
LightVerse copper/fibre combo patch panels also offer optimised cable management options, with removable toolless front and rear cable managers and an elegant fibre spool kit. These solutions have been designed with the user in mind and deliver efficient control of fibre and copper cabling while maintaining optimum performance, reducing clutter and potential interference.