AmiViz, a marketplace for cybersecurity, has announced a partnership with Darktrace, a global leader in cyber security artificial intelligence for the Middle East and Africa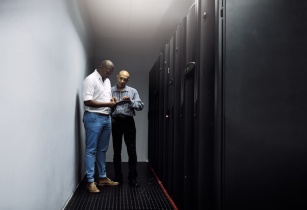 Darktrace has been on boarded to the AmiViz B2B Platform and can be accessed by resellers through their mobile app. (Image source: Adobe Stock)
This new partnership will bring the power of Darktrace's self-learning AI technology to AmiViz's customers and community. Self-learning AI sits behind every component of Darktrace's Cyber AI Loop; an always-on, feedback system that creates a virtuous cycle which strengthens and hardens the entire security ecosystem. Darktrace has been onboarded to the AmiViz B2B Platform and can be accessed by resellers through their mobile app.
Darktrace's Cyber AI Loop prevents, detects, responds, and heals from cyber-attacks, all at once, at all times, everywhere an organisation touches data and people, whether that's outside on the attack surface or inside the organisation.
Ilyas Mohammed, chief operating officer at AmiViz said, "We are excited to announce our latest partnership with Darktrace, a leader in AI-powered cybersecurity solutions. The partnership with Darktrace will allow us to provide the best-in-class solutions to our channel partners in the region."
"We are confident that this partnership will enable us to help our partners and customers navigate the challenges they face with various forms of cyber threats," continued Mohammed.
"We are delighted to welcome AmiViz into our evolving partner community, an organisation committed to equipping businesses across the Middle East and Africa with the security tools they need to minimise cyber disruption," said Francesca Bowen, global head of partnerships, Darktrace. "This new partnership will empower more organisations in the region to embrace Darktrace's self-learning AI, delivering autonomous, always-on cyber security and strengthening the human-AI partnership that will be critical for fighting the new era of attacks."
AmiViz and Darktrace will work closely to roll out several new channel initiatives to enhance collaboration and drive greater customer value. AmiViz will help conduct technical and sales workshops, support proof of concept, and extend pre-sales, implementation, and first-line support to its partners across the region.