France-based satellite operator Eutelsat has signed a partnership with Spacecom to improve the quality of the broadcast market in Africa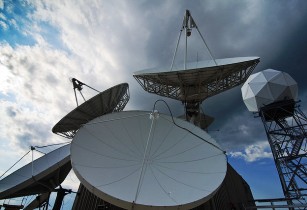 The combined channel line-up of Eutelsat 16A satellite and Amos-5 satellite comprises over 100 free-to-air African and international channels. (Image source: billrdio /Flickr)
According to the companies, they have established a framework for cross-commercialisation of Ku-band capacity connected to the high-power African service areas of Eutelsat's Eutelsat 16A satellite at 16º East and Spacecom's Amos-5 satellite at 17º East.
Ku-band provides high bandwidth and more targeted coverage for fixed and broadcast services, allowing for a range of satellite applications.
Rodney Benn, V-P of African region at Eutelsat, said, "The two operators will pool their commercial efforts to ignite further growth at the 16º to 17º East position in Africa. In addition to improving the quality and effectiveness of broadcasting services, this unique agreement raises the bar for service continuity for broadcasters and will deliver viewers a larger channel line-up from one virtual orbital position."
Eutelsat 16A and Amos-5 satellites host free-to-air channels, pay-TV, DTT and free-to-view platforms for media companies using satellites as a competitive route to digital content delivery.
Amir Carmeli, senior V-P of sales in West Africa and France of Spacecom, added, "Africa is a tremendously dynamic market for digital broadcasting. Our agreement with Eutelsat enriches viewers' experiences throughout the continent. By creating a joint effort that aggregates content and improves the commercial reach of advertisers, we are optimising the broadcast environment."