Media Concepts International (MCI) and KAON Media (KAON) have signed an agreement to manufacture digital set-top boxes in Nigeria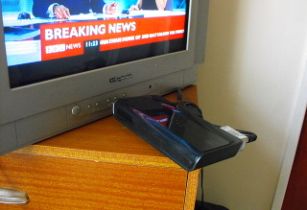 Nigeria is set to switch from analogue to digital television broadcasting in 2017. (Image source: Kicior99/Wikimedia Commons)
According to the deal signed between Nigerian MCI and South Korean KAON, the two companies will invest about US$1bn to set up a factory that will manufacture the set-top boxes. The deal comes ahead of Nigeria's forthcoming transition from analogue to digital television in 2017.
The deal will also help create jobs in and bring new technology to Nigeria. Babatope Agbeyo, managing director of MCI, said that the project will employ about 1,000 Nigerians, and will provide a high-quality product. He explained that KOAN will help build the factory and also transfer technology.
"The site for the factory is ready and by January next year, the foundation laying ceremony will be laid while by the end of the year, the factory will hopefully go on stream. The digital switchover is a massive project that will change a lot of things," said Michael Agbeyo, CEO of MCI.
Young Kang, director of sales for KOAN, was present for the deal-signing ceremony and made assurances that the products will be of global standards, and will supported by country-wide after-sales services. Kang also specified that the company would start by importing set-top boxes into the country, and then move to partial assembly in Nigeria before moving on to complete knocked down parts.
Kang also said that the design of the set-top boxes has been decided keeping in mind the infrastructure challenges in Kenya. He revealed that the same design was used in the company's devices in India, where despite the intermittent power supply, the rate of failure of the set-top boxes was about 0.35 per cent.