African Banker magazine, the best-selling publication dedicated to banking and finance in Africa, and Backbase, the leading Engagement Banking Platform, have partnered to produce the 3rd edition of their comprehensive report about the ongoing African digital banking revolution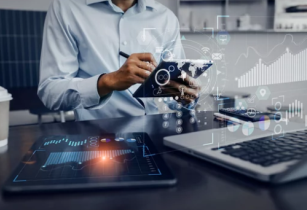 African banks remain resilient and committed to invest in digitisation to remain relevant in today's competitive landscape. (Image source: Adobe Stock)
The core of this year's report is the most comprehensive banking survey on the continent that attracted the participation of a record 153 banks from across the continent. Against an adverse macro-economic environment, African banks remain resilient and committed to invest in digitisation to remain relevant in today's competitive landscape.
Most African banks understand the importance of the key technological shifts with over 50% of surveyed banks considering it the most important factor for their business. Moreover, 19% of banks considered identify themselves as "digital native", further stressing the importance of digital transformation going forward.
A second element of the report focused on the key technological trends shaping the future of the banking ecosystem in Africa. Last year 74% of banks surveyed named cybersecurity as one of the most important trends to shape the future of the industry.
Most importantly, on a continent where banking penetration rates are still below 50%, African banks reaffirmed the importance of driving greater financial inclusion across the whole continent. Roughly 50% of banks surveys named retail banking as their top priority for 2023/2024, whilst also referring to mobile wallet apps and digital payment systems as the most critical product development priority for the next two years.
It is widely accepted that digitalisation can solve many of the structural problems that exist in access to finance in Africa and banks still have a huge role to play to spread financial inclusion, including in the B-to-B and B-to-C segments. Which is why it is essential to create an optimal environment to carry out this crucial mission, another pressing issue identified by banks.
"We are thrilled to have partnered with IC Publications on this report which is extremely important as it depicts the promising advances made as well as the challenges ahead. The ability to personalise banking experiences is a key expectation among bank customers today and banks have understood that. At Backbase, we reckon that barriers to digital banking are falling but that traditional lenders are still left behind by extremely nimble and agile fintech competitors. We are here to help financial institutions surpass their customers' expectations at every touchpoint and stay relevant in the new digital era," stated Matthijs Eijpe - regional vice-president EMEA at Backbase."
With demand for reliable and up-to-date information on Africa's banking and financial sectors at an all-time high, we aim to provide the necessary support to companies and individuals participating in an industry that is reshaping the future of the continent's economy. We are pleased to have accomplished this significant work with the help of Backbase. They have been an invaluable source of expertise to help us decipher the transition that is taking place among African financial institutions," commented Pedro Besugo, head of strategy and business development, at IC Publications.