Rack Centre unveiled its Corporate Social Responsibility (CSR) initiative in collaboration with The Workplace Centre (TWPC) and United Way Greater Nigeria (UWGN)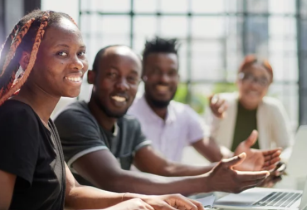 Rack Centre's CSR initiative empowers youth and SMEs in Lagos state. (Image source: Adobe Stock)
This initiative, known as The S.T.E.P. (Skills to Employment Program) and Digital Enablement Workshop, aims to empower 150 young individuals with essential digital skills and provide support to 50 local Small and Medium-sized Enterprises (SMEs) in specific regions of Lagos State.
The training encompasses various focus areas, including graphic design, digital marketing, Front-end Web Development, Networking and Security, and Soft Skills. These training programs, aligned with Rack Centre's sustainability objectives, have been meticulously designed to not only enhance the capabilities of the participants but also catalyse positive societal change.
Ezekiel Egboye, the chief operating officer of Rack Centre, highlighted the significance of this CSR partnership by emphasising its role in equipping the youth to become the next generation of tech-savvy professionals capable of thriving in the rapidly evolving digital economy. The strategic goal is to ensure that those who undergo this training have the opportunity to apply their acquired skills effectively in a competitive work environment.
The S.T.E.P. (Skills to Employment Program) will accommodate 150 young individuals and equip them with crucial digital skills essential in today's fast-paced world. This training is dedicated to nurturing a new wave of tech-savvy professionals and is scheduled to commence on October 9, 2023, lasting for a duration of 8 weeks.
On the other hand, the Digital Enablement Workshop for SMEs will empower local businesses with essential digital tools and practices to enhance operational efficiency, expand their market reach, and contribute to the sustainable growth of their enterprises. This training, set to foster technological advancement at the grassroots level, is set to kick off on November 6, 2023, with a duration of 4 weeks. Through this initiative, the aim is to create a robust ecosystem of thriving businesses that positively impact the economic landscape.
"We are excited to partner with TWPC and UWGN to launch this important initiative. We believe this would go a long way to bridging the skill deficit prevalent among the youths and SMEs. The need for digital skills keeps growing daily, globally, and Nigeria is not exempted. We believe that through this effort, we can uplift communities, transform lives, and contribute to a brighter, more inclusive future," said Egboye.
"We are proud to support this initiative, which will help to create a more inclusive and prosperous future for Nigeria. The digital economy is creating new opportunities for everyone, and we believe this is a step in the right direction," concluded Dr Moji Olateru-Olagbegi, CEO of TWPC.