For our 25th anniversary, Africa Tech Festival returns to the CTICC in Cape Town, bringing you more content and surprises than ever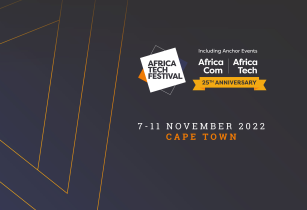 The Home of AfricaCom and AfricaTech is uniting business and technology to create a better, more inclusive digital world. (Image source: Informa Telecoms & Media Ltd)
The AfricaTech Centre Stage represents the intersection of technology innovation and enterprise digital transformation. It's the centrepiece of AfricaTech, where you will hear from organisations at the forefront of Africa's journey towards the Fourth Industrial Revolution.
The AfricaCom stage will focus on connectivity infrastructure and digital inclusion, with an emphasis on topics such as service provider technology, mission critical technologies and 5G for Africa.
Our AHUB will host the continent's most exciting start-ups and scale-ups, where attendees and investors can learn about how Africa's most promising entrepreneurs are building innovative companies and helping solve some of the continent's most pressing development challenges.
This five day in person event will cover the topics shaping Africa's present and future, including our Awards Ceremony and famous Afest, Africa's best party.
For free reg please visit https://bit.ly/3OOwlXi and for more information click here