CABSAT 2023, the flagship event for broadcast, satellite, content creation, production, distribution, and digital media and entertainment industries is set to attract more than 14,000 visitors, 340 exhibitors, and 120 speakers, and have more than 120 countries representing from 16 to 18 May, 2023, at the Dubai World Trade Centre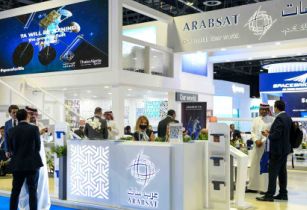 CABSAT 2023 will welcome back the Content Congress, which will celebrate and engage with the creator economy. (Image source: CABSAT 2023)
With the Middle East media and entertainment market expected to grow at a CAGR of 12.79% over the forecast period 2021 – 2026; the region remains one of the most appealing for the filmed content, broadcast, and satellite industries. At present, the region is rapidly transitioning from a content consumption market to a content creation hub. More regional productions are moving into the entertainment and distribution market, which is expected to be worth nearly US$70bn by 2026.
CABSAT is working with the most innovative content creators, producers, broadcast technology providers, as well as satellite distribution and content delivery companies to identify common traits of success across all verticals that can serve as the blueprint for future growth.
CABSAT 2023 and new additions
CABSAT 2023 will welcome back the Content Congress, which will celebrate and engage with the creator economy, and the SATEXPO Summit, where leading industry experts can discuss how sustainable space exploitation can be spearheaded. Similarly, NextUp, which also returns in 2023, offers a platform for start-up innovators in the media, entertainment, and satellite industries, while NextGen Content features an exclusive viewing area for the region's biggest content buyers to witness the work of the region's best content creators in innovative new formats.
Another significant feature of the 2023 event is the co-location with Integrate Middle East, which is expected to become the leading forum and sourcing platform for bringing together technology leaders and integrated solution buyers in the pro-AV industry.
Abdulnassir Ali, regional sales manager visual instruments and professional display, Epson Middle East, stated, "The demand for pro display solutions is growing exponentially in the Middle East and Epson is proud to showcase our products, which have been deployed by some of the leading entertainment organisations in the region, during the first-ever edition of Integrate Middle East.
"From education and art galleries to digital signage and corporate events, our projectors are a smart and advanced investment offering high quality, efficiency, and reliability. Moreover, our sustainable solutions can help meet the eco-credentials of your business, without compromising on the powerful and vivid images produced."
Kevin Boujikian, general manager, commented, "The launch of Integrate Middle East creates a unique platform for the AV industry that is much needed in the region, and one that everyone in the sector can benefit from.
"Provision AVL not only supplies world-renowned AVL brands such as Chauvet Lighting, Prolyte, EXE Technology, Solid State Logic (SSL), and PMC Speakers but uniquely focuses on two verticals, the recording studio market and the trussing/staging sectors, to meet the needs of an ever-growing market.
"With our sales and distribution company based in Dubai, UAE, we are able to provide solutions to various entertainment and integration projects and applications around the GCC and MENA regions, and we look forward to presenting these at the debut of the Integrate Middle East event," Kevin added.
Commenting on both events, Riju George, group director, exhibitions, DWTC, said, "We are delighted to see CABSAT continuing to receive such positive feedback from the market. In addition to loyal partners gathered over an almost 30-year legacy, many new companies and startups from around the world will be participating in the upcoming edition of CABSAT.
"The co-location with the new launch Integrate Middle East will increase the number of integrators and consultants attending and eager to meet face-to-face, creating a unique and unmissable synergy between both shows," concluded George.