Gulf Cooperation Council Interconnection Authority's (GCCIA) forum has ended on a high note with participating local telecommunication experts expressing their confidence in the sector's continuing growth and development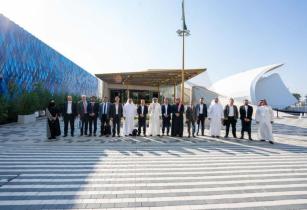 The forum stressed that telecommunications is a very important and essential aspect of the GCC region's growth. (Image source: GCCIA)
The event, titled Global communications networks: Latest technologies and investment opportunities, was held at the Cooperation Council for the Arab States of the Gulf Pavilion at Expo 2020 – Dubai and aimed towards taking a closer look at the latest technologies and current investment opportunities in global communications.
In his welcome speech at the forum, Ahmed Al Ebrahim, CEO at GCCIA, shared that the successful event represented a key opportunity to meet with top local telecommunication players and study the MENA region's overall communications connectivity while also seeking new ways to drive in more infrastructure investment in the region.
"Telecommunications is a very important and essential aspect of the GCC region's growth. It is also positioned as an important player in the further development of local economies. We are truly overwhelmed at the positive response generated by this event, which gave us the opportunity to meet with some of the region's top telecommunication personalities and tackle challenges currently being faced by the industry and how to promote interoperability among different communication networks and entities," said Al Ebrahim.
The forum was composed of two panel discussions. The first session saw the participation of Greg Varisco, CEO, Cinturion Group; Rafik Shafik, chief technical officer, Infonas; Veer Passi, Group CEO, Kalaam; Nicola Tordela, senior vice-president, Zain Group and Faisal Ameer, chief technical officer, Huawei.
Both sessions were highlighted with key insights and perspectives covering the global communications sector. Participants shared that the entry of large-scale investment projects and the emergence of newer technologies will play a key role in the efforts to reinforce the region's efforts to position itself as a world class global communications hub.