Globalstar Europe Satellite Services Ltd, a wholly-owned subsidiary of Globalstar Inc, and a specialist in satellite messaging, IoT, and emergency notification technologies, have announced that SPOT devices will track and safeguard all athletes competing in the 35th edition of MARATHON DES SABLES (MDS), the world's most extreme running race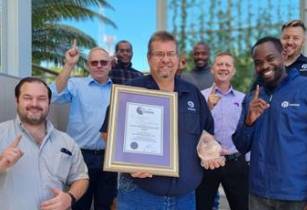 A further 150 SPOT devices will be deployed for support teams at the 2021 event. (Image source: Globalstar Europe Satellite Services Ltd)
Globalstar has for the sixth time been named Official Tracking Partner for this year's event, taking place from 1-11 October 2021. MDS did not take place in 2020 due to the Covid-19 pandemic.
Each of MDS 2021's 800 pre-registered participants will have the small, rugged SPOT units mounted on their backpack. SPOT will transmit their GPS location every five minutes so that race organisers, emergency support crew, sponsors, family and friends can precisely track each runner's progress online.
This is accomplished thanks to Globalstar's next generation fleet of satellites traversing the planet in low earth orbit, enabling reliable, ubiquitous coverage even where alternative communications infrastructure is non-existent.
MDS first used SPOT devices in 2015. That year, thanks to SPOT's GPS data transmission and emergency notification capabilities, during the course of the event, the MDS support team was able to precisely locate 18 competitors who found themselves in distress, and to quickly dispatch rescue teams to each.
A further 150 SPOT devices will be deployed for support teams at the 2021 event. As in past years, MDS 2021 race marshals will carry SPOT units and the devices will also be deployed in security and medical ground vehicles and helicopters.
If an incident occurs, such as injury, the runner simply presses SPOT's one-touch SOS button and their location data is transmitted by satellite from the SPOT device to race officials, making it easy to find the closest rescue team and to promptly dispatch support.
Customised tracking software including an intuitive user interface, provided by tracking specialist GlobalPlus+, a Globalstar value sdded reseller based in Spain, will help race officials, as well as friends, family and sponsors, keep track of the athletes' progress. The GlobalPlus+ platform uses geo-fencing to alert race HQ if an athlete inadvertently goes off-course.
"MARATHON DES SABLES this year feels like it has extra meaning following the events of 2020: We're extremely happy to once again be part of it," said Gavan Murphy, director of marketing, EMEA, Globalstar.
"It's an honour to enable tracking and SOS emergency help for these super-human athletes as they test themselves to their very limits, and to provide MDS organisers, support and medical crews with the satellite-enabled tools they need as they carry out their vital role in making this amazing competition possible," he concluded.