SES is discussing challenges of high bandwidth connections along with solutions at their webinar "Reimagining Satellite Connectivity in Africa" in partnership with Communications Africa on 7 September, 1pm GMT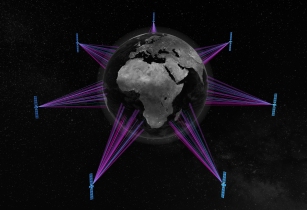 O3b mPOWER constellation. (Image source: SES)
In the face of increasing demand for high bandwidth, MNO's and Telcos in Africa are under constant pressure to keep pace with consumers' and industries' digital transformations. All this while finding solutions to provide quality connectivity in remote locations.
Deepu Pillai, Manager – Strategy and Market intelligence at SES, will share market trends in Africa to guide business decisions, followed by an insightful panel discussion with Sherif Baheeg, Vice-President, Services Delivery & Operations, Fixed Data, Europe, Middle East & Africa; Guillermo Rodriguez, Senior Product Manager, Fixed Data, SES Networks and Abou A. Diallo, Sales Director Africa, SES Networks, where strategies to meet the growing demand for bandwidth in Africa will be addressed.
The virtual discussion will also give exclusive insights on how enterprises, MNOs and Telcos are currently using satellite communication systems to meet their increased customer demand for bandwidth and the O3b mPOWER which delivers network services with high-throughput, and low-latency broadband connectivity to the most remote locations.
SES is the world's leading content connectivity provider. Together with their industry partners, they aim to do the extraordinary in space to deliver amazing experiences on earth.. SES is also one of the world's leading satellite owners and operators with over 70 satellites in two different orbits, geostationary orbit (GEO) and medium Earth orbit (MEO).
Register here to gain exclusive insights from the world's leading content connectivity provider: https://alaincharlestraining.com/webinar/ses-webinar
For more information, contact:
Monisha Antony
Project Manager - Webinars
Alain Charles Publishing
+44 (0) 20 7834 7676 |
This email address is being protected from spambots. You need JavaScript enabled to view it.