ROOT Technologies, the organiser of the Intelligent Cities Exhibition & Conference (ICEC), has announced that the fifth round of the Intelligent Cities Exhibition & Conference (ICEC) will take place from 23-24 October in Cairo, Egypt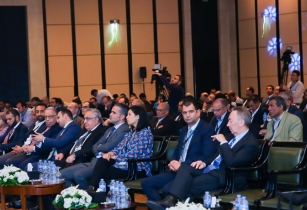 The conference is dedicated to promoting knowledge sharing and networking opportunities. (Image source: ROOT Technologies)
Ahmed Issa, CEO, ROOT Technologies, said, "Each year we take a step forward in delivering sustainable, intelligent cities for the future generations. Over the years ICEC has been fantastically well-received, and ICEC 2019 will be even more successful."
ICEC brings together the most influential consultants, real estate investors, developers, mixed-use developers, city planners, vendors, technology providers, systems integrators, architects, designers, government and telecom authorities as well as contractors and building material providers.
The organiser stated that intelligent cities have become essential to achieve a better quality of life for current and future generations. It is also one of the biggest growth areas impacting sectors such as the ICT, energy, transport and real estate sectors.
ICEC Features
FTTx - Triple Play - Telecom - Mobility - Data Centres - Command & Control Centres - Residential and Enterprise Cabling - Wiring Devices - Home Automation - BMS - HVAC - Access Control - Fire and Security Systems - Surveillance - Digital Signage - Unified Communications - High-Speed Communication - Outdoor and Street Lighting - LED Lighting - Power Plants - Electrical Distribution and Smart Grids - Renewable Energies - Solar and Wind Fields - Green Technology - Environmental Analysis - Water Control and Pumps - Water and Waste Water Treatment - Irrigation Systems - Industrial Systems - Garbage Collection Systems - Eco-friendly Transportation Systems - Connected Cars - Parking Systems - Facilities Management Systems and Applications - Meteorological Technologies - ERP - Big Data - Cloud Computing - Internet of Things - M2M - Artificial Intelligence - Blockchain - Information Security - E-Learning, E-Health and E-Finance - Elevators, Escalators and Moving Walks - Green Building Materials.
"ICEC is a must-attend event for those committed to achieving an urban future by developing smart and sustainable cities, and we are looking forward to welcoming participants to Cairo," concluded Issa.