African Internet and data service providers Catchpoint and AFR-IX Telecom form partnership to increase Internet connectivity in the region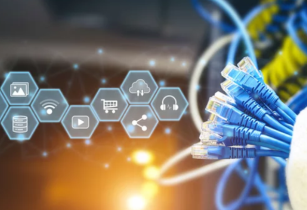 AFR-IX telecom also owns a Metro Ethernet network with MPLS for African IT infrastructures, which bridges fibre networks with MPLS capabilities. (Image source: Adobe Stock)
By using Catchpoint's market-leading Internet Performance Monitoring Platform (IPM), organisations will have the operational visibility required to ensure resilience – from applications to cloud services to Internet protocols.
The goal of the project is to improve Internet Resilience by increasing the number of vantage points across geographies and within infrastructure vantage points from which organisations can monitor their services and applications to ensure high-performing, reliable Internet connectivity.
"In today's world, the Internet is your new local network. Our deep, global observability coverage plus advanced analytics help the world's leading organisations identify and resolve issues before they impact their customers, their workforce, or their applications," commented Mehdi Daoudi, CEO, Catchpoint.
This pilot project will operate two backbone nodes in Accra (Ghana) and two in Lagos (Nigeria), allowing Catchpoint's customers to have visibility over the performance and resilience of their products or services within these regions. The four new nodes supplement Catchpoint's existing observability network footprint of 22 nodes distributed across Africa, spanning Morocco, Tunisia, Libya, Egypt, Uganda, Kenya, Tanzania, and South Africa.
AFR-IX Telecom operates one of the largest Pan-African networks providing coverage in more than 60 countries. The network, which expands across more than 60 PoPs, provides reliable and resilient connectivity in all regions of Africa by connecting countries via subsea and terrestrial cables. AFR-IX telecom also owns a Metro Ethernet network with MPLS for African IT infrastructures, which bridges fibre networks with MPLS capabilities.
Jesus Serrano, senior director, AFR-IX Telecom, said, "If project outcomes are successful, Catchpoint will expand the number of synthetic nodes deployed in AFR-IX Telecom."
"One of our primary assets, as expressed by our customers, is the very large number of vantage points from where they can observe their services. We currently have well over 2500 vantage points in 88 countries covering 347 ISPs in 278 cities, and we are continuously adding more," Daoudi added.