IoT connectivity is being extended across the globe with the potential to reach previously unreachable areas, through a partnership between Telefónica and Sateliot which involves the integration of the 5G network with satellite capabilities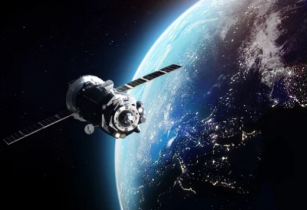 The new initiative combines a sateliite network with terrestrial networks for IoT connectivity wherever the customer needs it. (Image source: Adobe Stock)
Telefónica, through its division Telefónica Tech and Telefónica Global Solutions (TGS), and Sateliot, a satellite telecommunications operator, are collaborating to develop an innovative connectivity service with dual 5G NB-IoT technology, in which Sateliot's new satellite network will be integrated with Telefónica Tech's current terrestrial NB-IoT networks to offer IoT connectivity wherever the customer needs it.
The objective is to complement Telefónica Tech's value proposition with a global satellite service using Low Earth Orbit (LEO) constellations to provide 5G NB-IoT connectivity, which will allow NB-IoT devices to connect seamlessly to both existing terrestrial networks and the new satellite network.
The architecture designed by Telefónica Tech, TGS and Sateliot natively integrates the satellite network with the network nodes of Kite, the managed IoT connectivity platform developed by Telefónica Tech, which allows the customer to control and monitor their power lines in real time and remotely from anywhere in the world through a web portal or via APIs.
This innovative 5G connectivity service via satellite will not require the use of devices other than those already used in NB-IoT connectivity, and sectors needing coverage in remote areas, such as agriculture, shipping, wind farms, solar farms and livestock could benefit the most.
Africa, with its strong reliance on the agriculture sector, could therefore stand to gain significantly from this technology. In South Africa, for example, it could aid South Africa livestock owners in their fight against poaching and herd control, and the technology could help farmers worldwide by facilitating crop monitoring.
Carlos Carazo, technology and technical operations director of IoT and big data at Telefónica Tech, said, "We are convinced that these types of solutions will help us to consolidate our position as a benchmark in IoT, thanks to our Kite platform and other innovation projects based on virtualisation and the deployment of the network in the cloud. 5G satellite connectivity access provides a standards-based answer to IoT customers who require full coverage using the same NB-IoT devices that the industry already has."
To read the complete story on our latest issue click here