Semir Hassanly, head of Cellular Backhaul at ST Engineering iDirect, explains how MNOs armed with cellular backhaul solutions are well positioned to take on OTT challenges and win every opportunity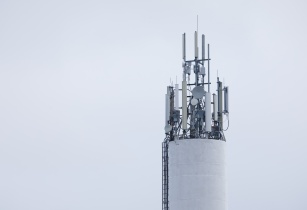 With leading cellular backhaul by satellite solutions, MNOs can extend their reach into rural and ultra-rural areas to cost-effectively bring communities online. (Image source: Adobe Stock)
With OTT streaming, every viewer can watch what they want, when they want – and often multiple streams are watched simultaneously. How? The mobile phone: Currently the No 1 way to consume video for most people. To enable this, significantly more bandwidth is required to meet rising demand. The problem is additional bandwidth may not be available in urban areas due to dense population, and is even more scarce in rural and underdeveloped regions.
MNOs must utilise available bandwidth in the most efficient way possible. Let's not forget, they must also provide voice and data services, making prioritisation a major challenge. At the same time, MNOs must also ensure high-quality viewing through increased QoE. With all this considered, one must ask: Is OTT an MNO opportunity, or the data-heavy straw that breaks the network's back?
The answer depends on whether the MNO has the right technology partner. With leading cellular backhaul by satellite solutions, MNOs can extend their reach into rural and ultra-rural areas to cost-effectively bring communities online. At the same time, they can increase throughput, offload peak traffic and keep data-heavy OTT traffic off their networks for cost-effective content delivery over satellite.
Satellite can effectively tackle buffering issues by feeding the Content Delivery Network (CDN). During peak times, terrestrial networks can become overwhelmed, leading to buffering and potentially causing viewers to abandon their viewing. By utilising satellite, distribution backbone traffic can be greatly reduced, ensuring efficient bandwidth usage. The CDN can deliver high-performance content close to end-users, leading to reduced buffering, especially for time-sensitive events like sports.
Satellite can scale rapidly and cost effectively. The beauty of satellite is its ability to reach anywhere on the planet. A satellite's footprint covers a vast geographical area and therefore allows service providers to deliver multicast content to many more subscribers in ever more remote locations. This ability to reach anywhere translates into mobile access for those who have no terrestrial connectivity.
Improved QoE, increased throughput, scalability and flexibility: MNOs armed with cellular backhaul solutions are well positioned to take on OTT challenges and win every opportunity. Satellite communications have made significant technological advances of recent and have evolved to enable telcos to reach more and do more. As a leading satellite technology partner in Africa, ST Engineering iDirect would like to inform, guide and empower connectivity across the continent.
Semir Hassanly is a cellular backhaul by satellite expert and works closely with global telco players to raise their network efficiencies and capabilities in order to deliver on improved coverage, quality of service and higher value applications.