Avanti Communications has completed the second phase of its project to build a new HYLAS 4 satellite gateway station, in Dakar, Senegal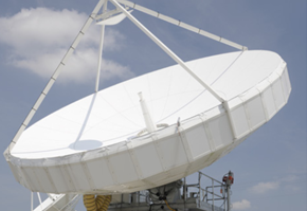 Avanti successfully concludes the second phase of the HYLAS 4 satellite gateway project as the new antenna arrives in Dakar. (Image source: Avanti Communications)
The arrival of a new Ka-band antenna, which is 9.2m in diameter, stands 14m and weighs 17,000kg, marks an exciting new milestone. It has taken over 12 months to build in a state-of-the-art facility in the USA, before being shipped to Dakar.
The new antenna system offers exceptional broadband support to deliver backhaul and large-scale connectivity for telecoms and government. The investment provides further support to the Digital 2025 initiative by providing investment, development of skills and delivery of connectivity for Senegal and its surrounding regions.
Avanti's local gateway partner, Free in Senegal, will host and support the operations of the new gateway from its Tier III data centre facility in Diamniadio.
Kyle Whitehill, CEO at Avanti, said, "Completing phase two of this project is a huge achievement for everyone involved. To date, Avanti has connected more than 1,000 villages and schools across Africa and we have ambitious plans to connect a further 10,000 sites over the next 5 years. This gateway is crucial to help us achieve that goal. I want to extend a special thank you to our strategic partner Free in Senegal, who have been instrumental in the project's success to date."
The new gateway will extend the coverage of Avanti's HYLAS 4 satellite to Senegal and the surrounding West African countries of Guinea, Sierra Leone, Guinea Bissau, Gambia, Liberia and Ivory Coast. This will significantly increase access to high-speed satellite internet for the countries' schools, hospitals and communities.
Avanti's carrier customers will also be able to extend their reach to rural areas and other semi-urban locations where terrestrial networks are currently limited or unreliable.