Es'hailSat holds many possibilities in terms of expansion of the company's fleet, bringing new products and services to the market and unique partnerships to be able to cater to the growing needs of the customers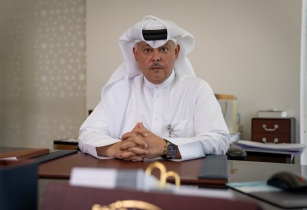 Hamad Al Mannai, vice-president-commercial at Es'hailSat. (Image source: Es'hailSat)
1) What services do you offer in North Africa? What are your longer-term plans for sub-Saharan Africa?
Es'hailSat has two satellites co-located at 25.5/26 East, both of which have coverage of North Africa. We offer both Ku-band and Ka-band capacity over North Africa and all of our satellite services, be it for VSAT connectivity, cellular backhaul, mobility applications or video broadcast are extended to North Africa as well.
We do not have sub-Saharan Africa coverage but we are tracking the market to better understand what services can be offered in the future.
2) Why are both Ku-band and Ka-band capacity important? How does offering both bands enhance your services?
Both frequency bands have their own unique advantages when it comes to serving customers. For Es'hailSat, the two bands allow us to cater to a larger group of clients across many verticals. Our Es'hail-2 Ka-band coverage, for example, includes spot beams that can be used to cater to anti-jamming services. Meanwhile, wide beam Ku-band on the same satellite can be used for DTH, Broadcast, Occasional Use, VSAT or Maritime connectivity.
3) How does satellite benefit your corporate customers? Which businesses particularly need satellite?
Corporate customers have come to rely upon the satellite service capabilities that Es'hailSat has built over the past decade. As the satellite operator of choice for the State of Qatar, we will always continue to cater to the growing needs of our Qatari customers, such as Al Jazeera, beIN, Ooredoo and others.
Demand for satellite services has particularly increased from the Maritime business. This is due to a variety of use cases, such as the surge in cargo shipping, the need for crew welfare or to enable passenger cruises with onboard Wi-Fi. Fishing and luxury vessels have also played a role as everyone wants to remain connected, whether they are at shore, near shore or out at sea.
4) What are your plans for the coming year?
2023 for Es'hailSat holds many possibilities in terms of expansion of our fleet, bringing new products and services to the market and unique partnerships to be able to cater to the growing needs of our customers. We look forward to making more detailed announcements on these fronts very soon.
5) Which events will you be attending this year and why?
We plan on attending multiple industry events, be it within MENA or for example IBC in Amsterdam. The objective is to continue strengthening our position as Qatar's national satellite operator while also developing steadily on global ambitions.