Orange, along with its subsidiary Sonatel, will partner with SES to deploy and manage the first O3b mPOWER gateway in Africa, allowing the African continent to enjoy easy access to high-performance and low-latency connectivity services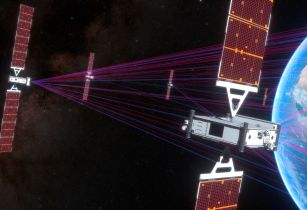 African O3b mPOWER Constellation. (Image source: Orange)
The three companies announced that the gateway for O3b mPOWER, SES's next-generation medium earth orbit (MEO) communications system, will be located at the Sonatel teleport in the Senegalese territory of Gandoul among other local satellites antennas.
This very first O3b mPOWER gateway will be used by Sonatel and Orange to deliver high-performance, low-latency, and cloud-optimised connectivity services throughout Africa. SES will also use the gateway to support telemetry, tracking and command (TT&C) functions for the O3b mPOWER fleet from an additional location and the first one in Africa.
Orange, Sonatel and SES intend to establish a memorial on site at the Gandoul gateway. It will highlight the history of satellite connectivity in Africa and the positive impact that advanced technologies and solutions such as O3b mPOWER can have on the continent.
"The Sonatel teleport is Senegal's pride, as it was home of the very first 30-metre satellite dish to be installed in Africa ever. Not only has Senegal played a key role in developing the telecommunication industry in the African continent for the last 50 years, but we will also continue to lead in bringing new technologies to the market with the introduction of O3b mPOWER, a next-generation MEO satellite network," said Sekou Drame, CEO of Sonatel.
Steve Collar, CEO of SES, said, "With the O3b mPOWER system launching in a few months, our customers are already looking forward to how they can expand their networks with much-increased throughput and enhanced flexibility. With a gateway located in Senegal, this new partnership will enable Sonatel and Orange to deliver more bandwidth more flexibly via O3b mPOWER to remote and underserved regions, helping ensure that everyone across Africa becomes truly connected with no one left behind."