German international broadcaster Deutsche Welle has opened a new bureau in Lagos, Nigeria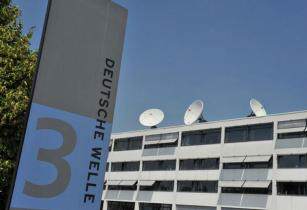 Founded in 1953, Deutsche Welle is funded mostly by German government grants. (Image source: Deutsche Welle)
The company said in a statement that Nigeria was chosen as the location because of its importance as Africa's most populous nation and largest economy.
Gerda Meuer, director of programs at Deutsche Welle, said that the station was the first German public service broadcaster to open a bureau in Lagos.
"Nigeria symbolises the aspirations and challenges of the African renaissance – from economic growth and the promise of prosperity to the fear of instability nurtured by chronic insurgency and conflict," added Meuer.
Deutsche Welle broadcasts news and information on television, Internet and satellite radio in 30 languages in Africa. The company would soon come up with other television programmes in other major languages.
Michael Derus, German consul general in Lagos, said, "The opening of the office is timely in the wake of Nigeria and Germany relations. Deutsche Welle is meant to promote mutual interest of both countries in the areas of economic, cultural and political relations."
Meuer said that prior to the establishment of the office in Lagos, two of Deutsche Welle's correspondents had been covering events across Nigeria and other African countries.