Secretary-general of International Telecommunications Union (ITU), Dr Hamadoun Touré, believes that access to broadband and technology is the key to Africa's advancement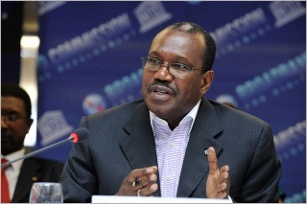 Dr Hamadoun Touré believes that access to broadband and technology is the key to Africa's advancement
Says Johnny Aucamp, General Manager: Strategic Relations and Business Development Africa at MTN Business; "These sentiments are mirrored by MTN Business. We believe that telecommunications will play a crucial role in the growth of Africa, and certainly while our continent has come a long way in reaching levels expected from global economies, the reality is that more telecoms investment is needed if Africa is to reach its expected GDP growth of 6.4 per cent."
Yet the market is cautious around infrastructure and telecom investments. Buzz words, fragmentation and future viability are key concerns especially considering the pace at which technology innovation takes place today – and rightly so. But the implications of a complacent 'wait and see' attitude will mean that Africa will miss the growth boat.
"The bottom line is that the industry is full of new 'product innovations' and technologies promising to take your business forward and drive a competitive advantage. Yet often they are sold under the banner of buzz words and not part of a longer term bouquet of solutions that can easily integrate into future technologies and can be supported by the correct infrastructure and R&D," continues Aucamp.
Future proof
What's more, the reality is that businesses in Africa have a fragmented IT infrastructure but this is no longer viable and just costs major money and more often than not, major disappointment. This has led to the market realising the need for a more consolidated approach. In fact, for business communications to be effective and future proof, it needs to be built on a basic infrastructure that can easily adapt to and map to another. So fragmented is not only fast moving to consolidated but it's doing so with the promise to improve the ability to future proof a business – creating more confusion and investment hesitance.
"Investing in an uncertain market full of potential is scary and can be daunting but not if you do your homework. Ask the right financial questions, ask about compliance policies and share price. But what really makes a technology service provider distinctive is their tenacity for an honest approach, based on transparency around the industry, new technologies and essentially what investments are best for your business and ultimately the continent," adds Aucamp.
Subscriptions increase
Broadband subscriptions in Africa are expected to reach 265mn by 2015 and cloud computing, virtualisation and hosted services are positioned to become critical elements to making such growth a reality. Businesses should therefore be looking to invest in new technologies, new solutions and new products to continue to drive such growth as it allows Africa to be part of global development and engage in conversations that may have previously been limited – fuelling e-learning, e-health and e-commerce opportunities.
"This is certainly a conundrum for Africa, but as the continent comes closer to realising such growth potential, businesses need to see this as not only a new era for Africa, but also for the technologies that power the continent. Wide-spread Internet adoption has undoubtedly been, and will continue to be, a fundamental contributing factor to the changing face of Africa – and with the right technology partner, further investment and growth should be inevitable," concludes Aucamp.