Radiodetection announces the RD5000 WL single-frequency pipe and cable locator kit, designed to deliver quick, accurate anduser-friendly utility location.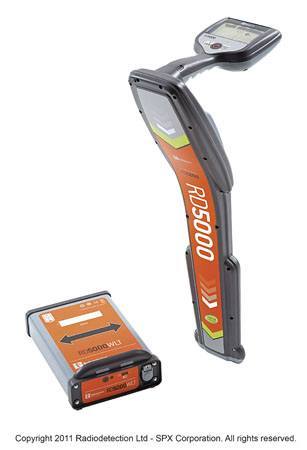 Radiodetection, a world leader in the design and development of cable and pipe locators, announces the launch of a new utility locatorand transmitter with novel features that are particularly suited for use in the modern water industry.Designed for ease of use, the combination of RD5000 WL locator and RD5000WLT transmitter provide a single high frequency location kitwhich is well-matched to the task of locating jointed pipes. These often pose a particular challenge due to isolative seals betweensections, and plastic pipes with tracer wire.
Locating specific pipes and cables in large underground networks is becoming increasingly complex. To address this, Radiodetection hasdeveloped ClearTRACK, a powerful digital signal processing engine that automatically rejects other signals from adjacent conductors,leading to more accurate location of a target pipe or cable. This feature helps to ensure that operators using the RD5000 WL canconfidently trace their target pipe or cable through increasingly congested underground utility networks. They are further improved byDynamic Overload Protection, which rejects large unwanted signals allowing use in electrically noisy areas – beneath high voltagecables, for example.
Easy to use
The RD5000WL has two operation modes: Guidance Mode, which directs the operator to the target pipe or cable centerline usingproportional directional arrows and differentiated audio tones, and Signal Strength Mode, which displays the field strength given outby the located pipe or cable, helping the user to pinpoint the target. Both locator and transmitter are controlled using a singlebutton, making them amongst the easiest to use products available.
Compass
Radiodetection's proprietary Compass feature provides the operator with a visual indication of the orientation of the target cable orpipe. This feature makes following the target line significantly easier, and also makes it easier to position the RD5000WL correctlyfor maximum depth measurement accuracy.
Centros Enabled
The RD5000WL is Centros enabled. Centros is a measurement engine based on more than 30 years of continuous development, combining newand innovative algorithms with established software on a high-performance processor core. Centros improves location accuracy andrepeatability and delivers timely responsiveness in the field.
eCAL Product Validation
Unique to Radiodetection's precision locators, eCALTM allows users to validate the original factory calibration of their RD5000WLlocator. By checking the responses of all relevant internal components, eCAL provides the user with confidence that the locatorperforms as it did when it first left the factory. eCAL can be carried out on-site and allows the owner to print a validationcertificate without the need to return the RD5000WL to a service center.