Computer Warehouse Group (CWG) has announced it will be the first company to be listed on the Nigerian Stock Exchange (NSE) following the launch of new trading engine X-Gen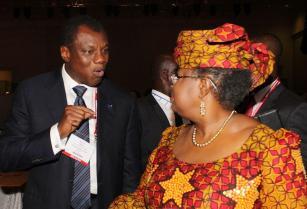 CWG founder and CEO Austin Okere speaking to Ngozi Okonjo-Iweala, Nigeria's Minister of Finance and Co-ordinating Minister of the Economy, at Nigeria's Economist conference in March 2013. (Image source: Computer Warehouse Group)
According to CWG, the listing of the shares on 15 November 2013 is expected to boost the market capitalisation of the NSE with approximately US$88.2mn.
CWG founder and CEO Austin Okere said, "CWG has over the years built a large proportion of its turnover into annuities from deploying its own Intellectual Property (IP), to enable financial inclusiveness in mobility, such as the recently announced Yello Diamond Account, which will bring banking services to over 55mn mobile phone subscribers, and the MTN XaaS product, which will provide financial services in the cloud for the over 1,000 microfinance banks and their customers on a pay as you use basis."
Okere said 12 of the large banks in Nigeria run on the Finacle Core banking application, which CWG jointly promotes in West Africa with Infosys of India, processing more than 60 per cent of all financial transactions in Nigeria.
The application is used by the likes of FBN, UBA, Stanbic IBTC, Fidelity and FCMB, among others, he added.
According to Okere, approximately 80 per cent of the company's revenue is from repeat business, with new customers introduced to the company through referrals.
Okere added that CWG is a strong player in the ATM business, providing and supporting more than 30 per cent of the country's ATM installed base in conjunction with Germany-based Wincor-Nixdorf.
CWG has also set up an Academy to train more than 200 graduates per year in Nigeria and Ghana and is set to start in Uganda by mid-2014, Okere said.
The company operates in Nigeria, Ghana, Uganda and Cameroon, and has virtual operations in 17 further countries.
CWG also has 18 offices and support centres across Nigeria, including in Lagos, Abuja and Port Harcourt.