Mastercard has partnered with Nigerian digital payment startup NowNow to help SMEs reduce the risk of cyberattacks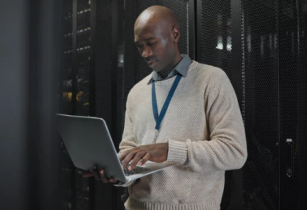 According to the World Bank, SMEs represent about 90% of businesses globally and employ more than 50% of the global workforce. (Image source: Adobe Stock)
There has been a significant increase in cybercrime in recent years. According to the Nigerian Communications Commission, Nigeria loses an estimated US$500,000,000 yearly due to cybercrime.
SMEs are a huge target for cybercriminals as they typically do not have the resources to defend themselves or to act accordingly once they have been breached. NowNow supports SMEs with regular web application penetration tests to ensure that applications are not vulnerable to any cyber threats. It is currently available in Nigeria and Angola and is expanding into several other markets (Equatorial Guinea, Liberia, and UAE).
As part of the Mastercard Start Path Global Programme, which is designed to help later-stage startups innovate and scale, NowNow was provided with operational support, commercial engagement, and the opportunity for strategic investment.
The health and sustainability of SMEs is essential for economic prosperity. According to the World Bank, SMEs represent about 90% of businesses globally and employ more than 50% of the global workforce.
Recognising the devastating impact of COVID-19 on SMEs, Mastercard committed US$250,000,000 over a five-year period to help SMEs, including establishing the Mastercard Trust Centre to address their cybersecurity needs.
The Mastercard Trust Centre is a microsite on the Mastercard.com site. It helps SMEs to defend their critical assets, business, and reputation by providing online access to trusted cybersecurity research, curated education, resources, and tools from Mastercard and trusted external sources. Recognising that each business has unique needs, the Mastercard Trust Centre provides a tailor-made approach, whether the business involves entrepreneurs starting to learn about cybersecurity, or business owners expanding their knowledge or mastering cybersecurity.
Mastercard develops partnerships with external businesses such as NowNow, non-profit organisations, and governments to bring the Mastercard Trust Centre to its partners' SME communities.